About Us
Company Outline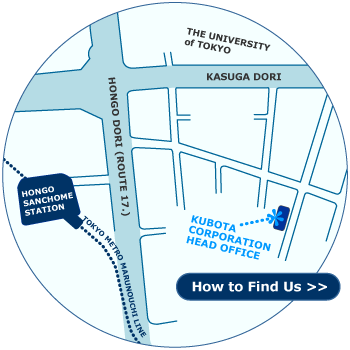 KUBOTA is a leading laboratory centrifuge manufacturing company in Japan. Based on its long history and close relationship with its customers, KUBOTA has the deepest level of understanding of the centrifuge market not only in Japan but world-wide. Using its advanced technologies and expertise, Kubota has provided customers with new products and innovative functions such as automatic rotor identification function. As this case shows, KUBOTA continues to provide the highest degree of satisfaction for its customers.
KUBOTA manufactures its products at the factory in Fujioka, which has become ISO9001 certified since 1996, and distributes through ten sales branches covering the whole area of Japan.
In addition, KUBOTA collaborate with more than twenty distributors in over fifteen countries. KUBOTA has been building a constructive and win-win relationship with these companies.
KUBOTA CORPORATION
29-9 Hongo 3-chome, Bunkyo-ku, Tokyo 113-0033, Japan
tel : +81 3 3815 1331
fax : +81 3 3814 2574
Japan is now under COVID-19 state of emergency, and KUBOTA's employees are
working from home
at the moment, which might cause some delay in daily operations.
It would be grateful if you could send
the following email address
if you want to contact with us.

Thank you for your understanding!
Partner Companies
A wide variety of products, from tabletop centrifuge or micro refrigerated centrifuge to high-capacity centrifuge or high speed refrigerated centrifuge, allow KUBOTA to meet whatever customers' requirements.
Moreover, KUBOTA has been importing the products of partner companies, such as Miele And Christ.KUBOTA distributes them all over Japan, exploiting its sales teams and understanding of customers and market.
History
KUBOTA Manufacturing Corporation
| | |
| --- | --- |
| April 1920 | Kubota Yonezo Co. was founded as a private firm in Hongo, Bunkyo-ku, Tokyo, Japan |
| January 1940 | Moved to Nishi-Sugamo, Toshima-ku, Tokyo, Japan. (Presently Higashi-Ikebukuro, Toshima-ku, Tokyo, Japan |
| March 1941 | Re-organized into a Corporation (Company) |
| March 1962 | Sales department separated and transferred to Kubota Corporation. |
| October 1991 | New factory constructed in Fujioka City, Gunma Pref., old facilities moved there and new operation started. |
| March 1996 | The Fujioka factory became ISO9001 certified. |
KUBOTA Corporation
| | |
| --- | --- |
| March 1962 | Sales department of KUBOTA Manufacturing Corporation was separated and newly re-organized to KUBOTA Corporation. Already opened branch offices in Osaka and Fukuoka of KUBOTA Manufacturing Corporation were combined into KUBOTA Corporation. |
| October 1965 | Sapporo office was opened. |
| July 1967 | Nagoya office was opened. |
| January 1969 | Hiroshima office was opened. |
| April 1969 | Sendai office was opened. |
| March 1973 | Niigata office was opened. |
| June 1976 | Exhibited at AHEMA trade show in Frankfurt and started to export the products all over the world. |
| October 1975 | Matsuyama (Shikoku) office was opened. |
| February 1994 | Tsukuba office was opened. |